Sarasota Florida Climate Controlled Indoor Gun Range.
Take Aim Gun Range provides a centrally located air conditioned indoor gun range.
We are located in Sarasota, Florida and a offer comfortable year round shooting facility.
13 Lanes At 25 Yards
10 Pistol Lanes And 3 Rifle Lanes. Shotguns May Be Used On Rifle Lanes With Buck And Slug Ammunition Only.
Spectator Seating Area
We Have An Area For People To Sit And Watch People In The Range Shooting.
Clean Restrooms
We Have Clean Restrooms For Both Men And Women.
Sodas And Snacks For Sale
We Offer Snacks And Refreshments In Our Shooter's Lounge Area.
Easy Access
We Are Right Off 301 And University In Sarasota And We Have Lots Of Parking.
Firearms And Accessories Shop
We Have A Full Firearms And Accessories Shop. Shop In Our Retail Shop Or Online.
Training
We Offer Firearm Training At The Range So You Can Sharpen Your Shooting Skills.
Basic Membership Required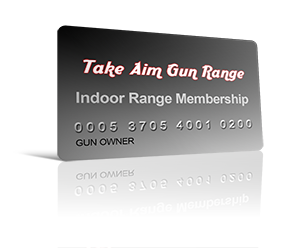 PLEASE NOTE: EYE PROTECTION AND EAR PROTECTION REQUIRED AT ALL TIMES ON RANGE. SOME CALIBERS ARE PROHIBITED – ASK OUR STAFF! NO ONE UNDER THE AGE OF 10 ALLOWED ON RANGE. SHOOTERS UNDER AGE 18 MUST SHARE A LANE WITH A RESPONSIBLE ADULT.
We Have Many Satisfied Customers.
Here's what some of them are saying:
ALAN OVERSON
Bradenton, Florida
Great place to go and burn up some ammo. Super friendly people who know what they're doing and are always smiling. If you are trying to decide on what fits your needs best, a very good selection of weapons are available to try out, at a very reasonable fee. The range lanes are always clean with a good air filtration system in place. I try to go at least twice a month and always have a good experience. They have lots of shooting gear, targets, ammo, eye wear, ear protection, etc. All in all a great place to go and shoot. Thanks Take Aim!
WINNIE FLEMING SR.
Siesta Key, Florida
Outstanding Gun store and Gun Range! Very friendly and well informed & Knowledgeable Family run Range. Plenty of space for all your shooting. They have a 5 shot try out / see how it fits, test drive the gun before you purchase program which is a wonderful way of fitting the Firearm to you instead of buying one & learning to fit you into the firearm. They have classes available and special days through the week like Monday's competition and Thursday is Lady's day. Family friendly and a Great Location make this my Top Gun Range!
ANTAEUS BALEVRE
Sarasota, Florida
My wife and I love this place. Take Aim has a friendly staff who are very knowledgeable. Mike Magowan is the best trainer I know, and Peter is, well, Peter, and we love them both. Very family oriented, calm atmosphere (for a gun range), and their prices aren't bad either. Check them out, and fire a few rounds while you are there.